Pamper all your senses
GASTRONOMY
DIRECTED BY OUR BEST CHEFS
WICHTERLE CASTLE RESTAURANT
The Wichterle Castle Restaurant invites you to enjoy a pleasant gastronomic experience. The baroque style of the restaurant underlines the overall impression of the castle. Delicious meals worthy of the castle environment are offered à la carte. We are pleased that we can prepare for you dishes from primarily regional sources.
The character of the kitchen comes from the region where the castle is located. We try to introduce our customers to traditional Czech and especially Wallachian cuisine with a touch of modern elements. In our kitchen you can find regional ingredients from local farmers and suppliers. We try to prepare our menu according to the season of the year with an emphasis on quality.
Capacity of both restaurant and individual lounges for a beautiful lunch, dinner, celebration, smaller weddings, corporate events, etc .
Restaurant: In case of over capacity, breakfast is served in the small lounge,
which is decorated in the same spirit as the restaurant.
Upon request, we also prepare meals for guests with dietary restrictions.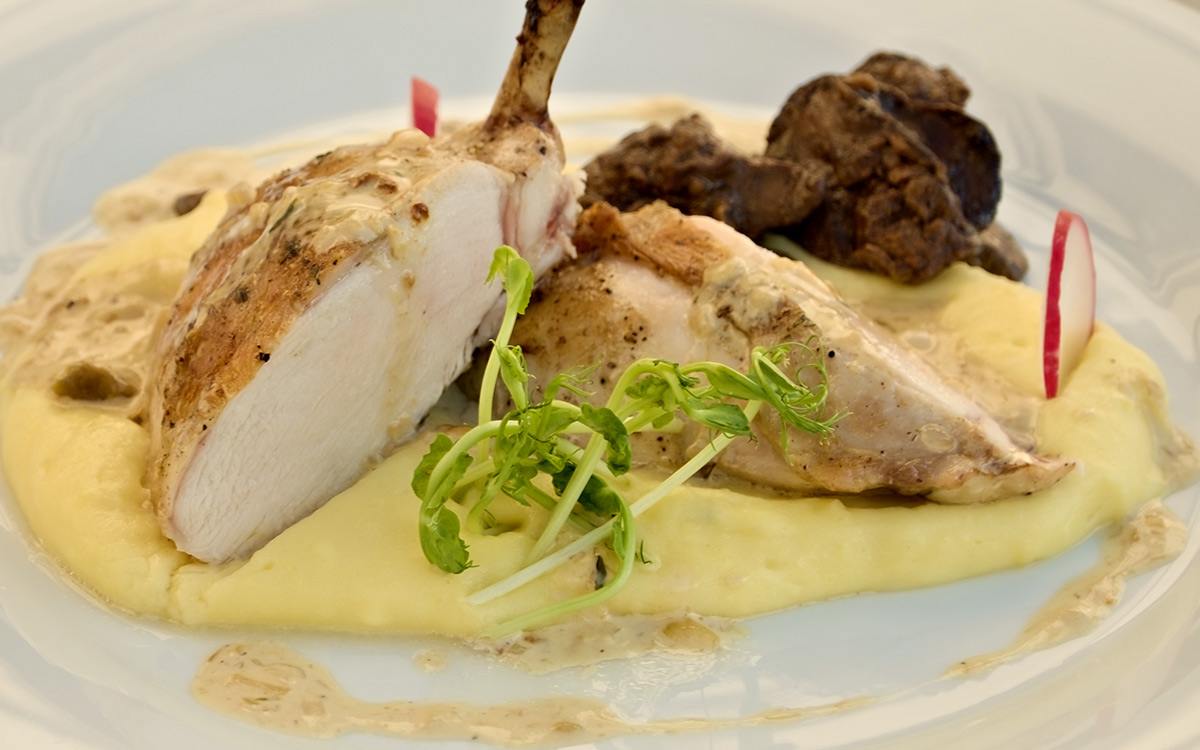 The hotel restaurant will
impress your taste buds
For groups over 6 people we recommend booking in advance
RESTAURANT
OPENING HOURS
Su-We  11.00 – 22:00
Th-Sa  11.00 – 23:00
The hotel reserves the right to change opening hours during business and other events.
Jaké gastronomické zážitky na vás v restauraci čekají?
Oblíbené jsou také speciality, které připravujeme během rozličných akcí. Jejich skladba je opravdu pestrá. Může to být "jen obyčejné" grilování na terase, ale také třeba zvěřinové hody, degustační nebo zážitkové menu.
Bylinky ze zámecké zahrady využíváme nejen v kuchyni, ale také pro přípravu vlastních čerstvých limonád a míchaných nápojů. Chuťové pohárky pohladí lahodnost moravských vín z Čech a Moravy.
Dezerty, zákusky a další sladká potěšení pečeme přímo na zámku
Z dvorní cukrárny tak putují rovnou na váš talíř. Skvěle se hodí třeba k šálku lahodné kávy.
Piknik v zámeckém parku
Máte smysl pro romantiku? Patříte mezi piknikové nadšence, pro které je venkovní stravování kvalitní formou trávení volného času s přáteli? Zámecký park je vám plně k dispozici. Servírovat můžete v libovolné části parku, na dece, kterou vám zapůjčíme i s košem dobrého jídla a pití. Samozřejmostí je veškeré piknikové vybavení.
Využijte naší nabídky od léta do podzimu.